Gabriel Boric and his companions, as he himself called them, had it all at once. Together with Giorgio Jackson and Camila Vallejo, they led the student protests of 2011 and 2012, demanding free and quality education. Shortly after, in 2014, with less than 30 years, the trio came to Congress and formed student bench in the Chamber of Deputies, along with Karol Cariola, another important communist leader. After two terms in Parliament, Jackson and Vallejo had no plans to run for re-election: they wanted to continue studying and politicking from other spaces. He even planned to go to England. But in early 2021, what was primarily a testimony stake began to take shape: Boric's candidacy for the presidency, the only one being already 35, the age at which he could run, according to Chilean law. His party, Social Convergence, even had trouble gathering the 34,000 signatures needed to vote. And the rest is history.
After a resounding victory in December, the president-elect has appointed Jackson (34, who will be in charge of relations with Parliament), Vallejo (33, spokesperson) and Izkia Siches in the Interior a fundamental part of his work. Government, a 35-year-old doctor who was also the student leader of the University of Chile's School of Medicine at the protests 10 years ago. A photo circulating on social networks shows a very young Boric and Siches, smiling, in the middle of the parade, him with a flag in his hands, without even imagining what will happen after a decade.
Everything comes to them at once and some facts reflect it. Boric, for example, has not yet graduated as a lawyer from the University of Chile, which drew strong criticism during the campaign. Earlier, in 2015, when Boric and Jackson proposed reducing the parliamentary diet, Christian Democrat senator Ignacio Walker opposed them: "They're moving from benefits to parliamentary salaries." Because, after becoming student leaders and winning the election to enter parliament, they have no other job besides politics. While he was deputy, Vallejo received harsh criticism from time to time on social networks for his alleged Audi-branded car hoax, because Chilean society would not allow young left politicians to do so. Deputies have had to deny it on many occasions and even accept it with humor. Since the Boric family lives in Punta Arenas, in the far south of the country, he came to the capital as a student and, later, as a representative, he lived with his colleague Irina Karamanos in an apartment in the central sector of the capital. , where you must move before March 11th for security reasons. Unlike previous Chilean presidents – with a stable home, children, wife – Boric's advisers had to find him a place to live according to his position.
"The process is very fast", recalled a few days ago attorney Constance Schonhaut, a prominent leader of Boric's Broad Front, who is currently working as a conventional to draft a new Constitution. "It's a bit dizzying looking back. How it all happened so fast and how we are a generation that builds very quickly, very carefully: with a lot of responsibility for the paths we want to explore. And we went down that road. With the hope and the weight of history on our shoulders," explains Schonhaut, a member of the Boric party, Social Convergence and part of the president-elect's narrow circle.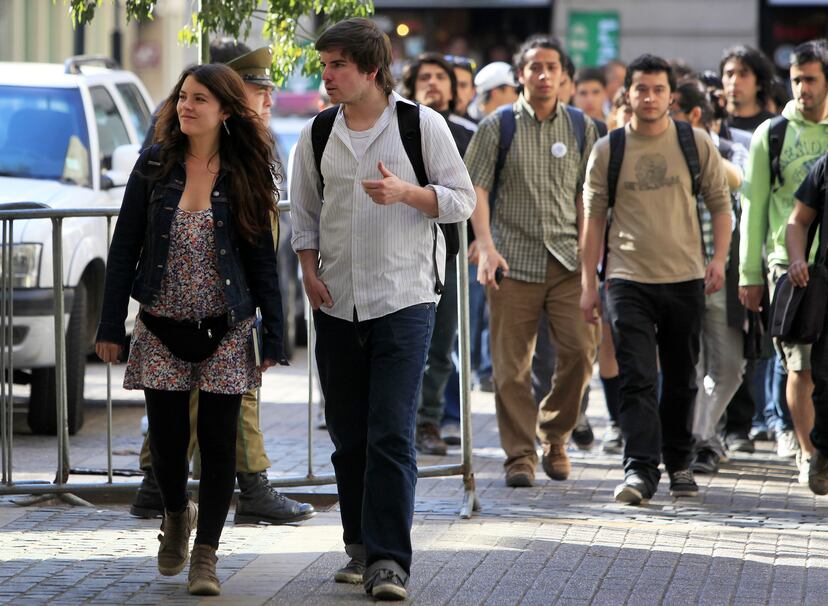 Join EL PAÍS to keep up with all the news and unlimited reading.
customer
Schonhaut spoke of a generation of "orphans," who don't feel represented by politicians and the way they train the public, who are "shaping themselves and forming together." "We build on mistakes and successes," commented the lawyer, referring to another issue that has characterized this generation, the way of questioning hierarchy. "Gabriel is our president, but we understand him as an expression of a collective process. We have great admiration and respect for him, for the role he will play and play throughout this process, but he is our partner," said Broad Front conventionally on the podcast. daily coffee.
Boric along with Siches, Jackson and Vallejo will form the political committee of La Moneda. They will all have offices in the Government Palace and will make the most important decisions in the country, in a group that will include the next Minister of Finance, economist Mario Marcel, and Minister of Women, Antonia Orellana. They come from different political forces. While Boric led the Social Convergence, the same formation as Orellana, Jackson belonged to the Democratic Revolution, although both were part of the Broad Front. Vallejo is a member of the Communist Party, which even has an alternative presidential candidate to Boric for the Approve Dignity bloc primaries. In 2017, a government spokesman said in an interview with EL PAÍS that the Communist Party and the Broad Front had "many programmed coincidences and strategic views about the future." Marcel, a 62-year-old veteran of the political team, is strongly associated with the Socialist Party, although he is not an official member.
"Why did I accept being Minister of Finance of the future President Boric Administration? A few days ago I said that economists should be able to step out of our comfort zones, contribute to expanding the boundaries of what is possible and become non-conformists. For that", believes Marcel, a social democrat, a symbol of fiscal responsibility, after learning of his appointment in one of the most important positions of the future Government.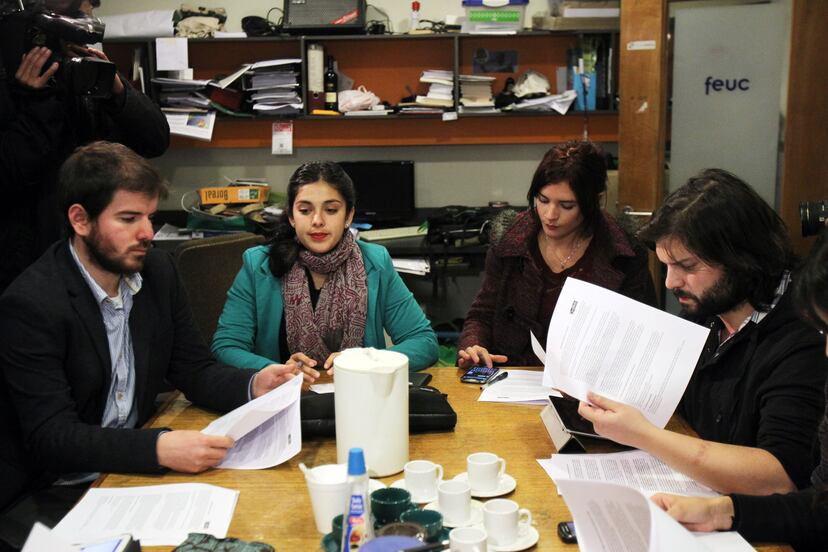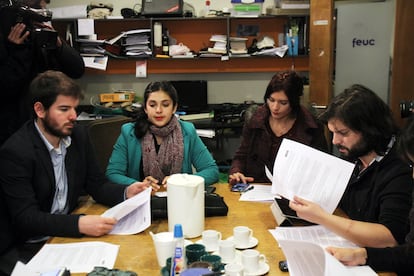 The issue of youth has become an issue that Boric and his colleagues have had to address on many occasions. During the campaign, the incumbent candidate, Sebastián Sichel, criticized him for his lack of important experiences, such as fatherhood (neither Boric nor Jackson had children, unlike Siches and Vallejo, who each had a daughter). "Being a president is more than being a university leader, a lot of experience is required. It is necessary to lead something other than politics, not just be a representative in life, to have important experiences; I am a father", believes former minister Piñera in the campaign. Boric himself, before running for La Moneda, had referred to the issue of experience: "I lack experience and knowledge," he assured in December 2020 on television, when the possibility of becoming a presidential candidate seemed remote. Boric and his men have taken over the theme and made the national anthem an iconic anthem by León Gieco of Argentina, You will leave Charly. "They say the youth don't have enough experience to govern. Luckily, I never had one. steal experience. Luckily, I never had one. The experience of lying," is the theme of the famous singer-songwriter who has even met the current president.
"This is a generation that has experienced a growing amalgamation into the institutional framework that has had to take over the crossroads of history, with Chile with a social and political rift that we haven't seen in a long time." sociologist Carlos Ruiz has explained, who was one of the Broad Front's theoretical mentors and has seen its maturation in the last decade. "This generation – and in this regard Gabriel has always been very sensitive – is very open to Chile's new social and cultural geography. Against the demands it creates and the need designed by the old to renew itself in the face of the new social panorama. They may adore Salvador Allende, but they realize that there is a giant balance sheet of the 20th century left that is absolutely waiting," Ruiz mused.
They will start the Government with high hopes – high risk, many would say – and with a resolute attempt to remedy what this generation of left politicians have often criticized in the past: a certain arrogance and little intergenerational views. Boric, in the Cabinet announced on Friday, has shown signs that views are changing. He included not only people his age – although they were the ones he installed in his first power ring – but also many professionals in their 40s and 50s, and even familiar faces from the centre-left, such as Senator Carlos Montes, 75. When a photo went viral on social networks comparing the first Democracy Cabinet in 1990 to the one that will debut in March – with clear differences in women's presence and diversity – it was Boric himself who stopped the criticism and ridicule. "I've seen comparisons of Patricio Aylwin's wardrobe with ours and it's true that it stands out because of the presence of women, youth and colors that show how society has changed. But don't forget that pre-Alwyin photo with the military. That's the great thing."
subscribe here to the EL PAÍS América newsletter and receive all the important information about current affairs in the region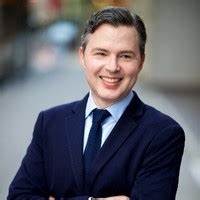 "Problem solver. Proud twitter specialist. Travel aficionado. Introvert. Coffee trailblazer. Professional zombie ninja. Extreme gamer."